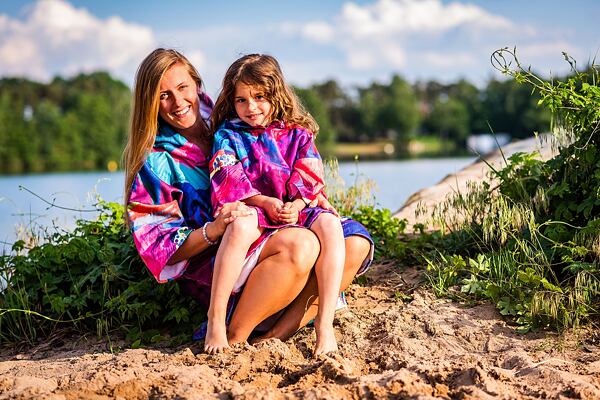 Když Vás láska ke sportu přivede založení značky,  ANNA MOUCHOVÁ!
TOWEE - osušky, které baví! Příběh značky, kterou založila milovnice vodních - adrenalinových  sportů a naše kamarádka Anna Mouchová. 
Jak se ses dostala k wakeboardingu?
Moje první zkušenost s vodním lyžováním byla na Floridě. Lyže jsem si užívala do chvíle, než jsem zjistila, že je jezero plné krokodýlů.  V roce 2015 se v Hradci Králové rychle rozneslo, že se u místní pískovny staví wakepark. Byla to láska na první pojezd a do měsíce jsem měla celou výbavu. Díky zkušeným kamarádům vlekařům jsem měla rychlý progres. Dodnes je pro mě wakeboarding zábavou a hlavně relaxem. Pískovnu mám 5 minut od bydliště a na těch západech slunce jsem závislá :).
Tvůj pohled na sportování  dětí?
Jsem toho názoru, že děti by měly být ke sportu vedeny především rodiči. Děti, které nemají takové zázemí doma, bohužel ve většině případů sport ve škole nedohoní. Líbí se mi trend různorodých sportovních akcí, kde nezapomínají ani na ty nejmenší. Vyvolat v dětech zdravou soutěživost je předpokladem k dalšímu sportovnímu rozvoji. Sice to je teprve 6 let, co jsem začala jezdit na wakeboardu, ale už nyní tam roste nová generace "wejkařů". Už od narození děti napodobují a následují své rodiče. Buďme jim tím správným příkladem!
Co ti sport dává?
Od malička miluju vodu. S rodiči jsme s karavanem procestovali Evropu a kdykoliv byla příležitost, tatínek jezdil na windsurfu. Sport mám spojený s odpočinkem a zábavou. Na 100 % jsem se věnovala především zpěvu a díky pěveckému sboru jsem procestovala svět. V Americe jsem si zkusila vodní lyžování, na Taiwanu surfing, na Kapverdách kitesurfing, no a v Hradci Králové wakeboarding. Co víc si přát? Vám všem přeji, aby pro vás byl sport hlavně potěšením.
Anička založila  značku Towee v roce 2016 se svojí první kolekcí designových osušek.
Za vším stojí její nekonečná láska k cestování, přírodě a sportu.